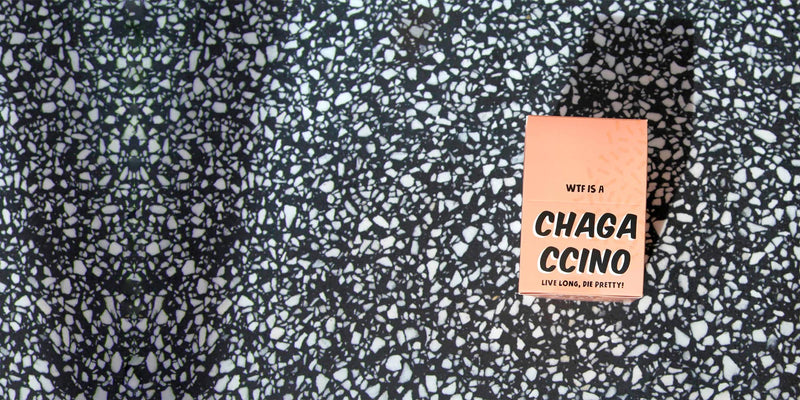 The Chagaccino is the health and wellness industry's favorite mocha alternative. A delicious organic, dairy-free, keto and vegan-friendly boost for your coffee featuring the highest grade medicinal mushroom, Chaga, and adaptogens like raw cacao, Ceylon cinnamon, Madagascan vanilla, and monk fruit. Super clean, smooth, and healthy, too!
The Chagaccino features wild-foraged Chaga, extracted through a proprietary solvent free method using just high pressure and water, and only the highest quality ingredients. Raw powders that avoid any emulsifiers, binders, fillers, preservatives, or other junk, leaving you with the tastiest and healthiest mushroom coffee option out there! Our fully-formulated mix lets you choose your weapon – our OG recipe is espresso, plant-based milk, with ice optional, but this versatile mix works with cold brew, matcha, chai, or simply with milk to transform it into an adaptogenic superfood hot chocolate!
When mixed with espresso, milk, and ice, the Chagaccino transforms a basic latte into a deliciously nutty, and chocolatey mocha alternative. The only difference is it's zero calories, vegan, keto friendly, AND super good for you. That's why we say, 'LiveLong, Die Pretty!'
One of the great things about The Chagaccino is how versatile it is. Whether you take the Chagaccino mix to your local coffee shop, or prepare it at home, you're guaranteed a delicious and healthy boost to your day! Here are our recommendations:
Our OG recipe: Mix Chagaccino packet with two shots of espresso, and stir well (we don't use any binders, fillers, emulsifiers, or preservatives, so make sure to stir well to dissolve). Add ice to a glass, pour in milk of choice (about6-8 oz), and top it off with the Chagaccino mixture. Try it hot, too!
Chaga Cold Brew/Drip Coffee: Stir Chagaccino packet with 1-2 oz of hot water to dissolve, or straight into hot drip coffee, then add your cold brew, ice, and creamer or milk(optional).
Adaptogenic Superfood Hot Chocolate or Chocolate Milk: Simply mix Chagaccino packet into frothed or warmed milk for a delicious, healthier hot chocolate. For an iced option, mix packet with 1-2 oz of hot water, and stir well to dissolve. Add ice and milk to a glass, and top it off with the Chagaccino mixture.
Feel free to try it with matcha or decaf coffee, too!
You tell us! We love seeing how our customers incorporate Chaga into their daily routines!
Ancient mushrooms:proven to support the immune system, relieve stress, and act as an antioxidant powerhouse. After 20-30 years of growth on birch trees, our Chaga is extracted with just water and high pressure to extract the healthy compounds vs. harsh solvents like alcohol, ethanol, acetone that many other brands use. We also freeze dry it into a powder preserving the health benefits vs. chemically spray drying it, resulting in a smooth and delicious beverage!
Organic Cacao Powder(Peru or Ecuador):Our 100% pure raw cacao powder possesses a luxuriously fine texture and rich flavor that creates the most delicious flavor highlighted in the Chagaccino! In order to preserve the complex flavor profile and health benefits, the beans are carefully harvested, fermented, sun-dried, and cold-pressed, and never roasted.
Ceylon Cinnamon(Sri Lanka):Apart from cinnamon being a powerful antioxidant, we chose Ceylon cinnamon because of the purer and sweeter flavor compared to other varieties. It acts as a perfect complement to cacao and vanilla, giving the drink a subtle warmth without overpowering the flavor.
Monk Fruit Sweetener(Japan):This zero-calorie sweetener and non-GMO erythritol traditionally used in eastern herbalism gives our Chagaccino the perfect, subtle sweetness that enhances the flavor of the other ingredients, all while keeping it clean.
Each packet has 500mg of Chaga. This is a full dose to make sure you reap the benefits from the Chaga mushroom! No micro-dosing or pixie dusting here.
Nope, our Chagaccino mix does not have any added coffee. Feel free to use your favorite beans to make the Chagaccino! See our How-To page here.
Yep! We love the mix with steamed milk, like a hot cocoa, mixed into a matcha latte, with decaf coffee, and in smoothies! Just make sure to dissolve the powder fully into a small amount of warm water before mixing into cold liquid! Please email info@drinkrenude.com with any recipe questions!
Nope. Chaga is stimulant free, but it will give you an energy boost on the mitochondrial level for a more gradual boost of energy throughout the day, allowing you to perform at your best for much longer. Chaga also aids in improving sleep due to the fact that it does not stimulate the body in the way that caffeine does.  Chaga also works great with coffee (caffeine) if you choose to consume it as a mushroom coffee and extends the energy boost over a longer period of time without jitters or a crash. Smooth!
We recommend enjoying a Chagaccino in the morning and afternoon, but it totally depends on if you're going to use decaf or consume it with coffee (caffeine).  Enjoy it at night with the milk of your choice as an elevated hot chocolate and it will serve you in your evening routine for a good night's rest!
We recommend storing your packets in a cool, dry place. They're pretty low-maintenance.
Definitely! Why don't you give both a try? See the How-To page here!
Renude means stripped down to the bare, natural, and naked. Renude means pure and clean.. No solvents, chemicals, preservatives,  binders, fillers, or lab made ingredients.  Renude means recreating and renewing what you love and are nostalgic for in pure, clean, respectful and loving way so you can enjoy it again the way it was meant to be.
Our Chaga is sustainably sourced from birch trees in Canada and Siberia. Chaga naturally grows where the tree is wounded (like a band-aid), and extends the tree's life in exchange for absorbing its abundant nutrients. After letting the Chaga grow on the birch tree for 20-30 years, it's the size of a beehive and is harvested leaving 20% on the tree so it can still protect it and be re-harvested in a few years. We can then re-harvest it from those same trees we GPS in 3-5 years. It grows on 1 in 10,000 birch trees in freezing climates.  Cool?
We have developed an advanced proprietary method for bioactive extraction that yields a clean Chaga extract in an earth-friendly manner. We employ an environmentally-responsible extraction method that applies heat and pressure to water to lower its polarity, causing it to behave like an organic solvent. We then freeze dry it into a powder to maintain the health benefits and avoid the use of harsh solvents.
The Chagaccino is made in Los Angeles, California. California knows how to party!
Nope! The Chaga mushroom will give your body tons of health benefits, like promoting stress-relief and an energy lift, but it won't get you high or make you trip.
Our Chaga is wild foraged from birch trees in Canada and blended with Organic Vanilla from Madagascar, Organic Ceylon Cinnamon from Sri Lanka, Organic Cacao from Peru, and Monk Fruit from Japan.
Yes. We test all our ingredients and final batches in 3rd party labs for heavy metals, microbial quality, aflatoxins, mycotoxins, mold, yeast, and pesticides to ensure we are providing only the highest quality product!
Yes, our supplements adhere to the FDA's rules and guidelines for dietary supplements, and follow FDA's cGMP (Current Good Manufacturing Practices) and the labeling and claim guidelines. The FDA does not approve dietary supplements as they do over-the-counter drugs, but they do regulate them to ensure manufacturers are testing and producing their products to be safe. We're highly committed to providing high quality, safe products through proper sourcing and rigorous testing.
We recommend consulting your physician or healthcare provider before giving our product to the kiddos.
We recommend consulting your physician or healthcare provider before consuming while pregnant or nursing.
We recommend consulting your physician or healthcare provider before consuming while taking other medicines.
We recommend taking up to two packets in one day. Enjoy!
The effects felt will vary by the individual; however, Chaga has been known to help promote stress relief, a smooth lift in energy, increased stamina, mental clarity and focus, and more. See the full list of Chaga benefits here!
You can buy single serve packets right on our Shop page! You can also visit a nearby coffee shop and have them make you a Chagaccino on the spot. See our store locator here!
We currently only ship to the United States, but we're hoping to expand internationally in the near future. Hang tight!
It typically takes up to 1-2 business days to process your order. Afterwards, your product will ship out and arrive with 5-7 business days. Our goal is to always get you your Chagaccino ASAP!
Route's Green Package Protection is a package protection solution that helps cover your order in the event that your order gets lost, stolen, or damaged while in transit while also protecting the planet. We know how frustrating it is to have something happen to your order, so we've partnered with Route to offer added assurance that you're supported, no matter what. Green Package Protection can be added during checkout.

Every time you add Green Package Protection to your order, Route donates to support an
agroforestry initiative that removes CO₂ from the air and promotes a flourishing ecosystem.

You can also utilize the Route App to visually track all of your online orders in one place and easily file a claim with their team. Whether you're tracking via the Route App or online Route's real-time shipping updates keep you in the loop throughout every part of your delivery. Haven't downloaded the app yet? Download here

Purchased Route's Green Package Protection and looking to file a shipping issue online? File here
Absolutely! If you'd like to purchase either our 1kg bags or single serve packets wholesale, please fill-out a wholesale application here, and reach out to info@drinkrenude.com with any questions.
Oooh, tell us more! Please email info@drinkrenude.com with the following information:
Your Company Details
Name
Social Media
Website
Event Details:
Name
Start/End Dates
State/end Times
City, State
Attendance Estimate
Other Info
We're always on the lookout for new collaborations! Please email info@drinkrenude.com with the following information:
Your Info– First and Last Name
– Instagram Handle
– Tik Tok Handle
– Website
– Other info
Tell us a little about yourself! Please email sup@drinkrenude.com with any info you'd like to share and how you see yourself as a part of this team. Thanks!